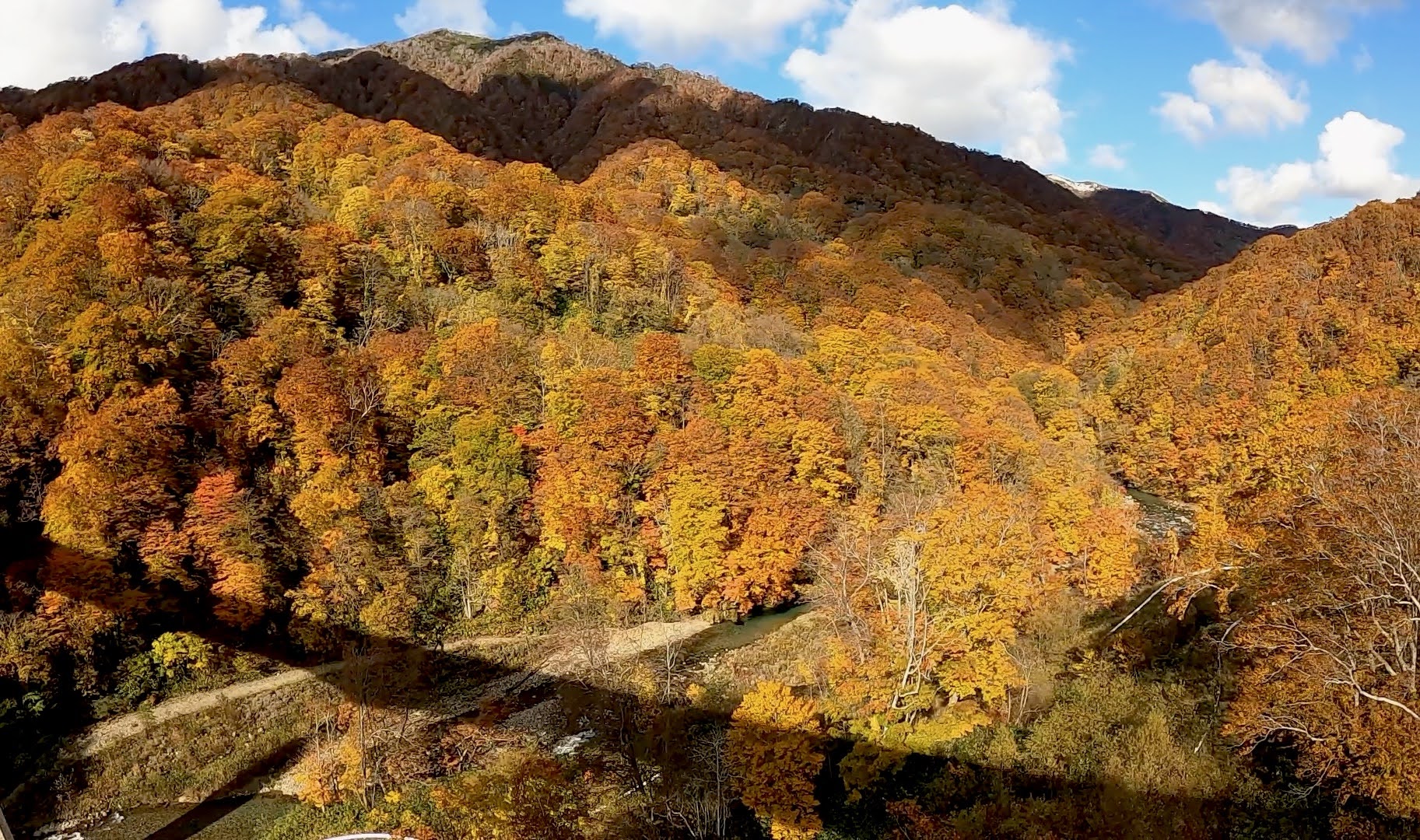 Hi guys, I am Mayu, a community reactivating cooperator squad of Yakumo town. I'm going to introduce you to a 100% customized excursion「Yakumo Tour」. We guide you to various places throughout the year, but this time we made a special autumn tour. The theme is " Yakumo's Autumn and nature", made for our guests who enjoy nature! Tell us what kind of tour you are looking for! We make a 100% customized tour based on your request.

We picked options for the "Autumn color leaves tour" as follows:
・Yakumo cattle raising farm
・Salmon run up spot
・Color leaves view spot
・Yakumo mining ruin
・Obokoso Hot springs
・Motoyama Farm Cafe ELFIN
・Yakumo panorama park
・Yakumo service area
Let's get started♪
Great panorama view of the Volcano Bay "Yakumo cattle raising farm observation deck"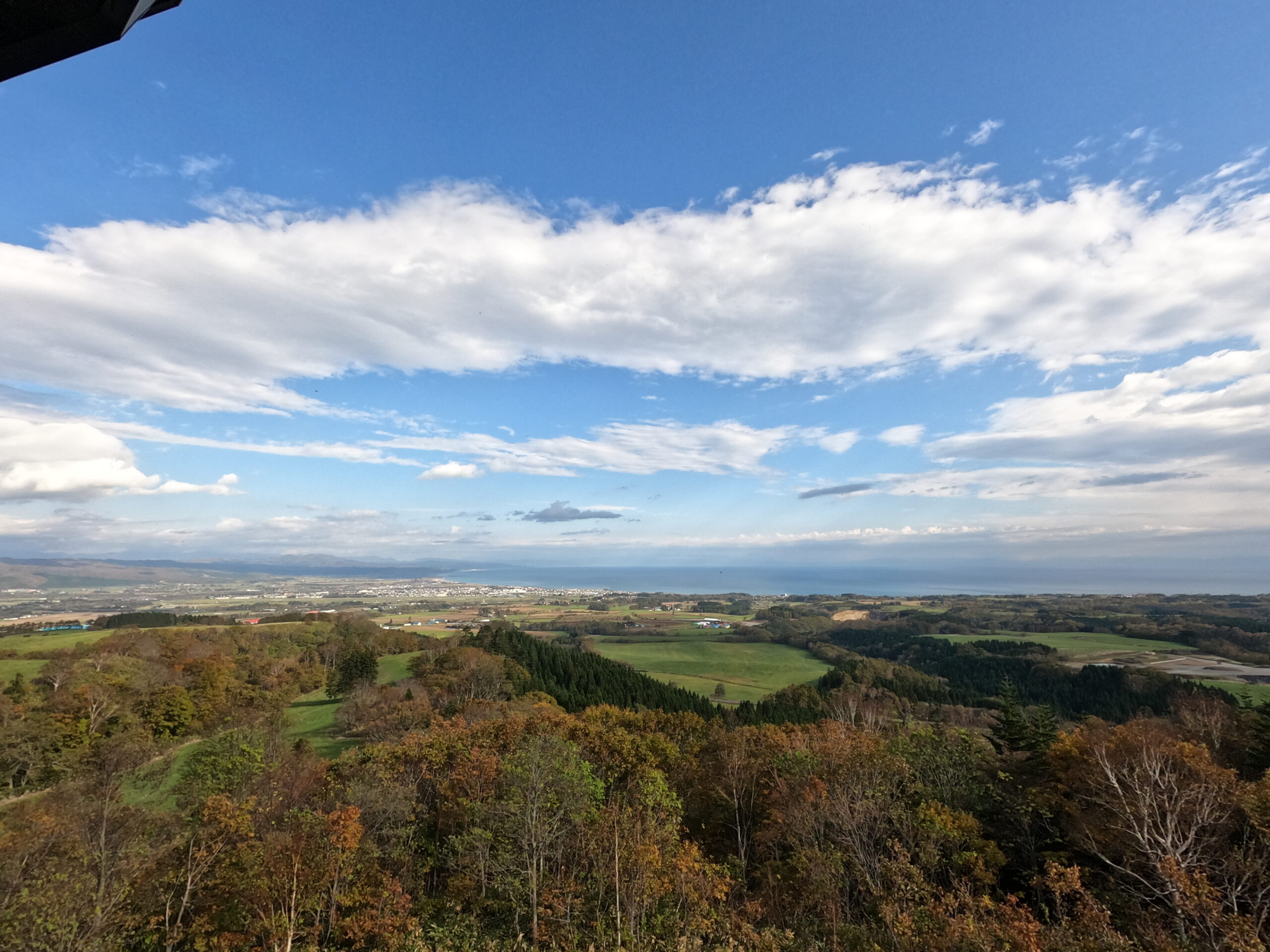 First of all, we needed to climb the hill to see the magnificent view! There are so many dairy cows coming from all over Japanese farms. If you go up to the top of the hill, there is an observatory and you can see the Eruption Bay. You can see Mt. Yotei if the weather is clear, and also a starry sky at night.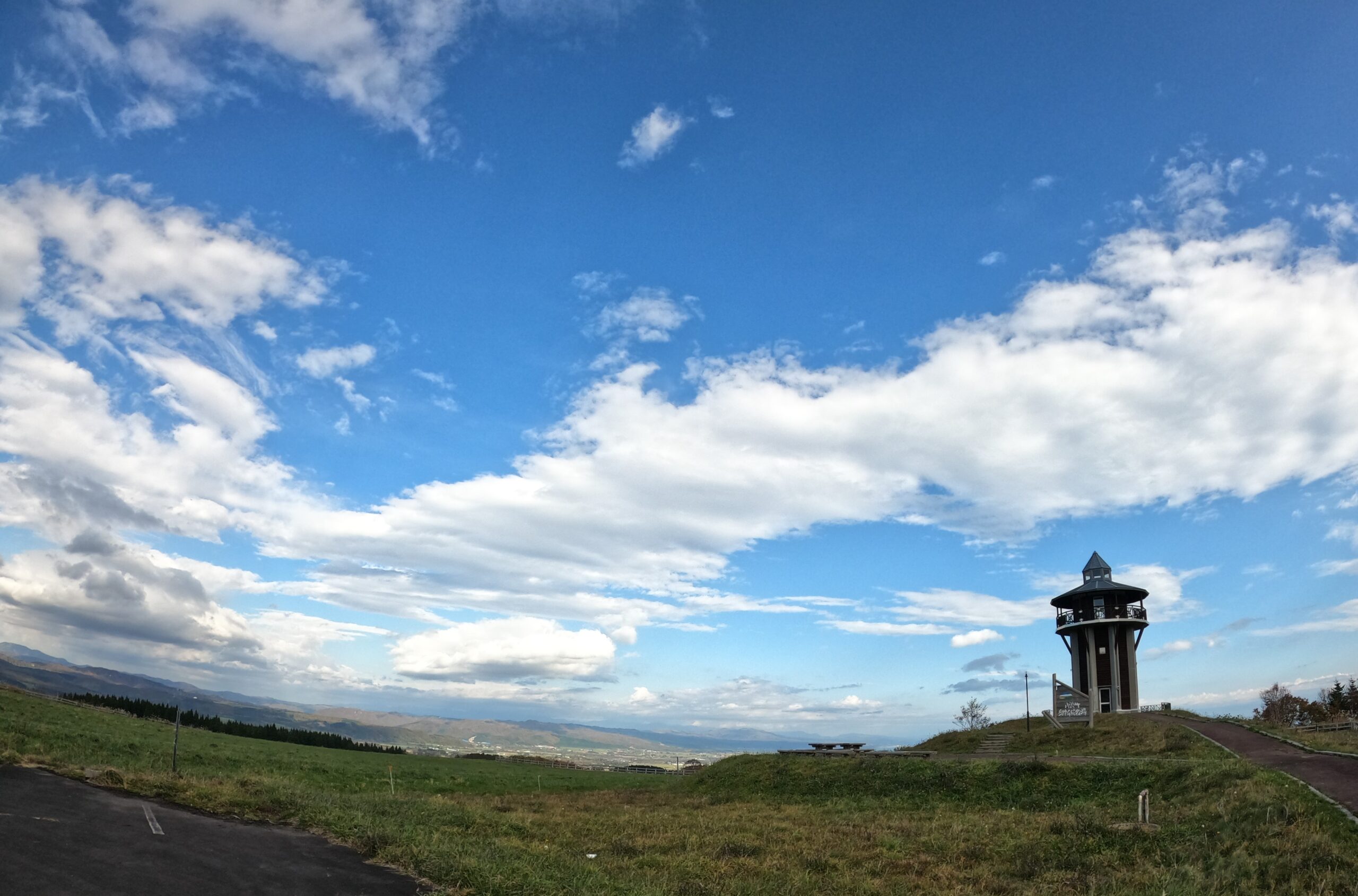 Hokkaido's Autumn feature!  Visiting Salmon run up spot.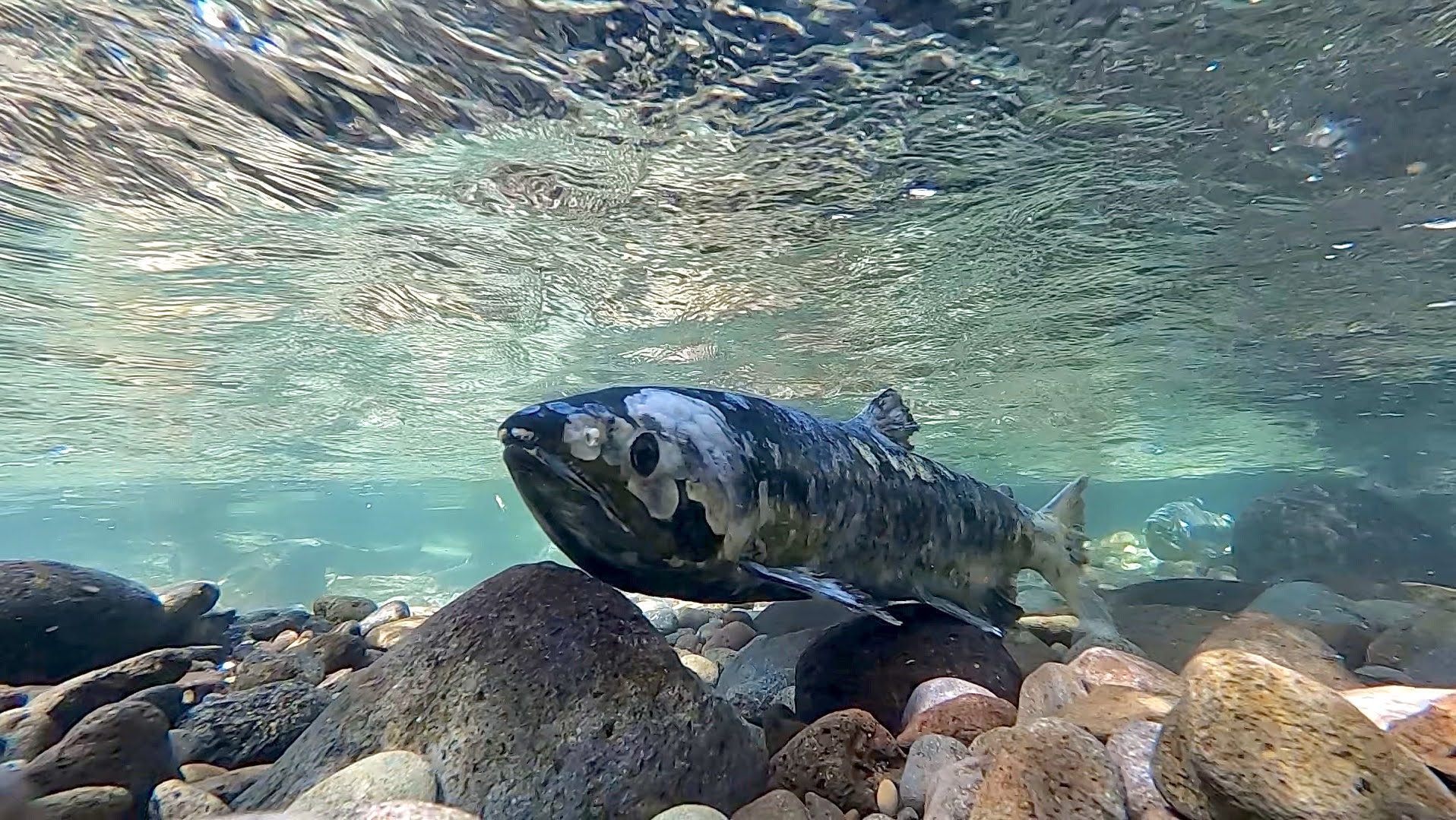 What you can not miss when you come to Hokkaido in Autumn is Salmon, of course. Salmons are also called Akiazi (taste of Autumn) , here in Yakumo. You can see salmon running up in the Yurappu River, which runs through Yakumo Town.
The black shadows in the river in the photo are all salmons that have run up! If you look into the water, you can see the salmons swimming closely in the clear water.
Driving around Yakumo for Color leaves!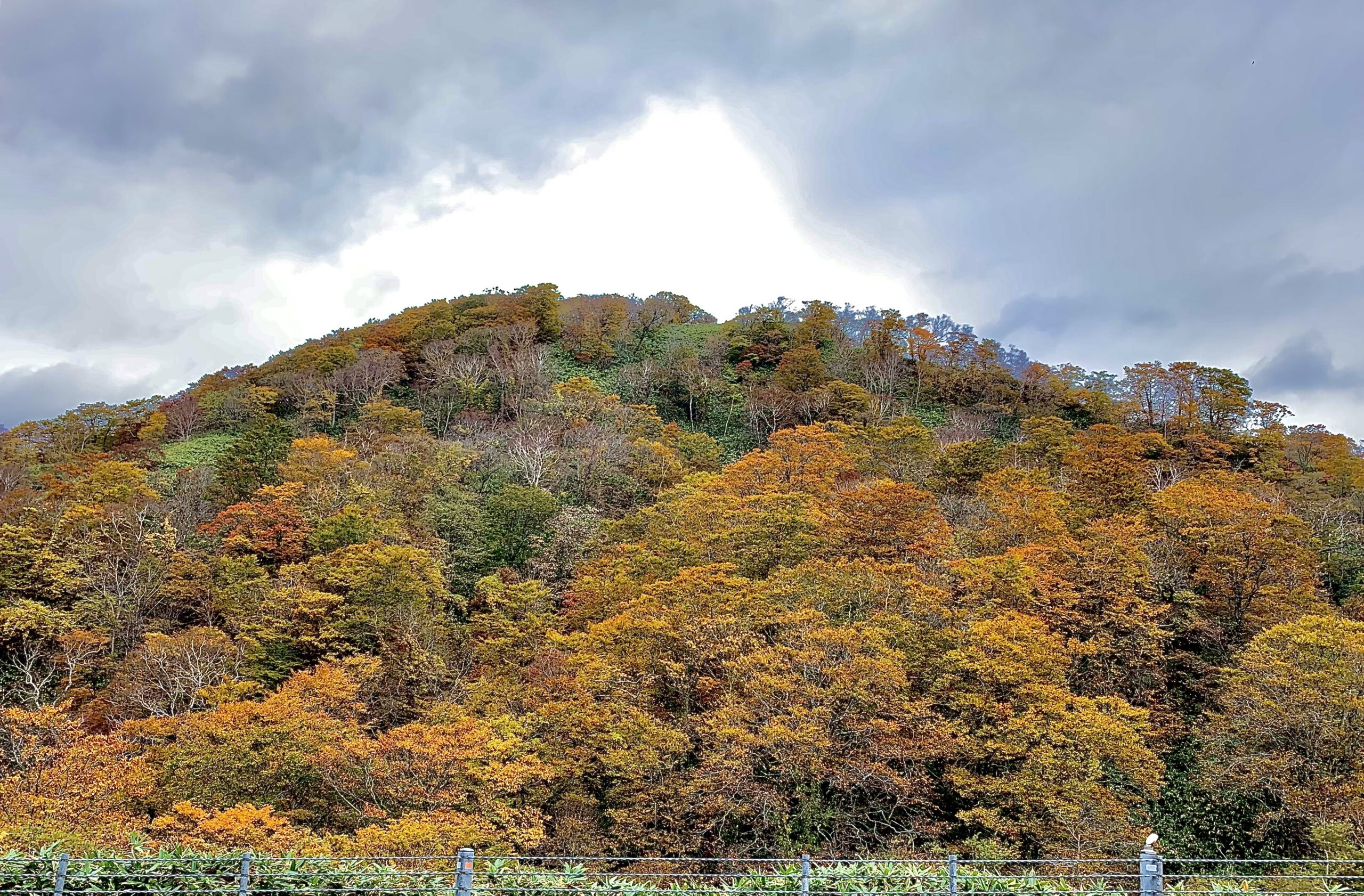 After that, a short drive takes you to the spots where the autumn leaves are beautiful. When we drove to the national highway connecting Yakumo city area and Kumaishi, we could see beautiful autumn leaves.
This place is called "Unsekikyo" and is one of the eight scenic spots in southern Hokkaido, and is known as a famous spot for autumn leaves.
Next, we visited "Yakumo Mining Ruins".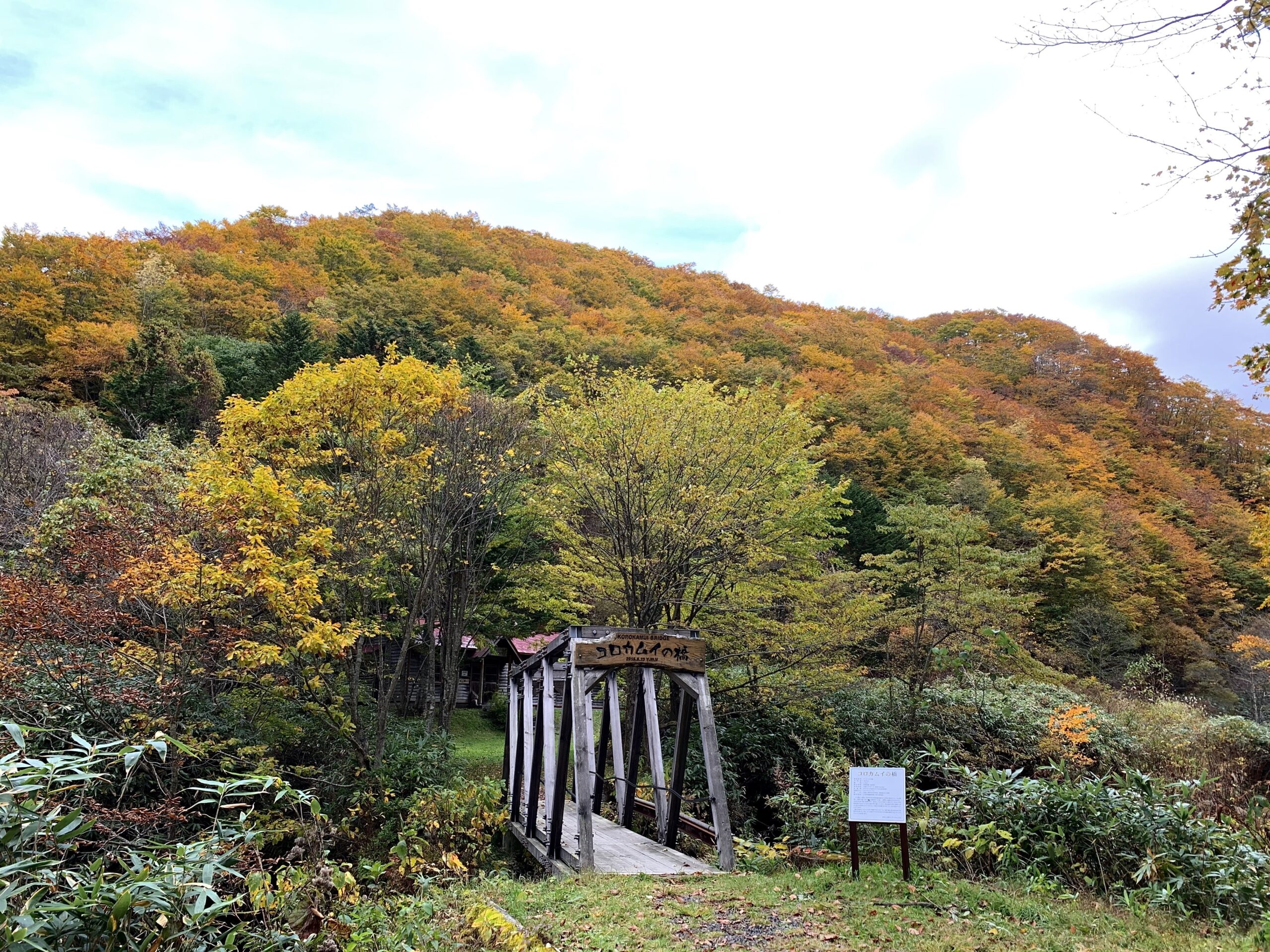 This is the entrance to the mine where silver, lead, gold, etc. were mined. You can explore the mine by attending a Geopark tour. You can enjoy beautiful autumn leaves too, since this spot is among the mountains.


In front of the Yakumo mine ruins, there is a Yakumo Onsen "Obokoso", which has a superb open-air bath.


This is a picture of winter, but at this time of year, you can see the colored mountains from the open air bath. It's a great spot for refreshing.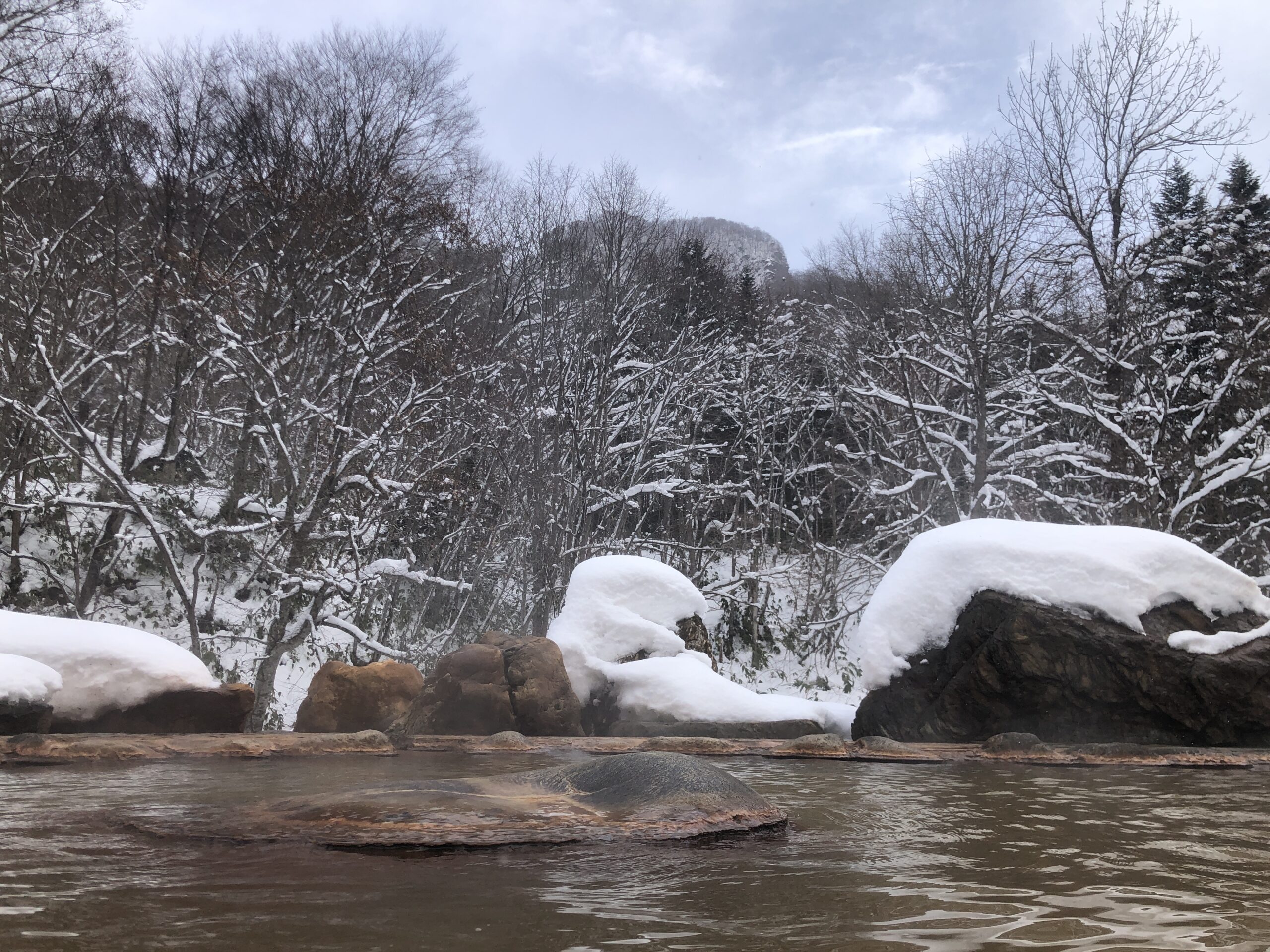 Instagenic! A straight road with rows of Japanese white birch trees "Volcano Bay Panorama Road"

This is the most popular spot in Yakumo Town for taking photographs! A long road with Japanese white birch trees that stretch straight toward the sea are great in the picture. There is a prefectural facility "Panorama Park" which can be accessed from both national roads and highways. From here you can overlook the Eruption Bay.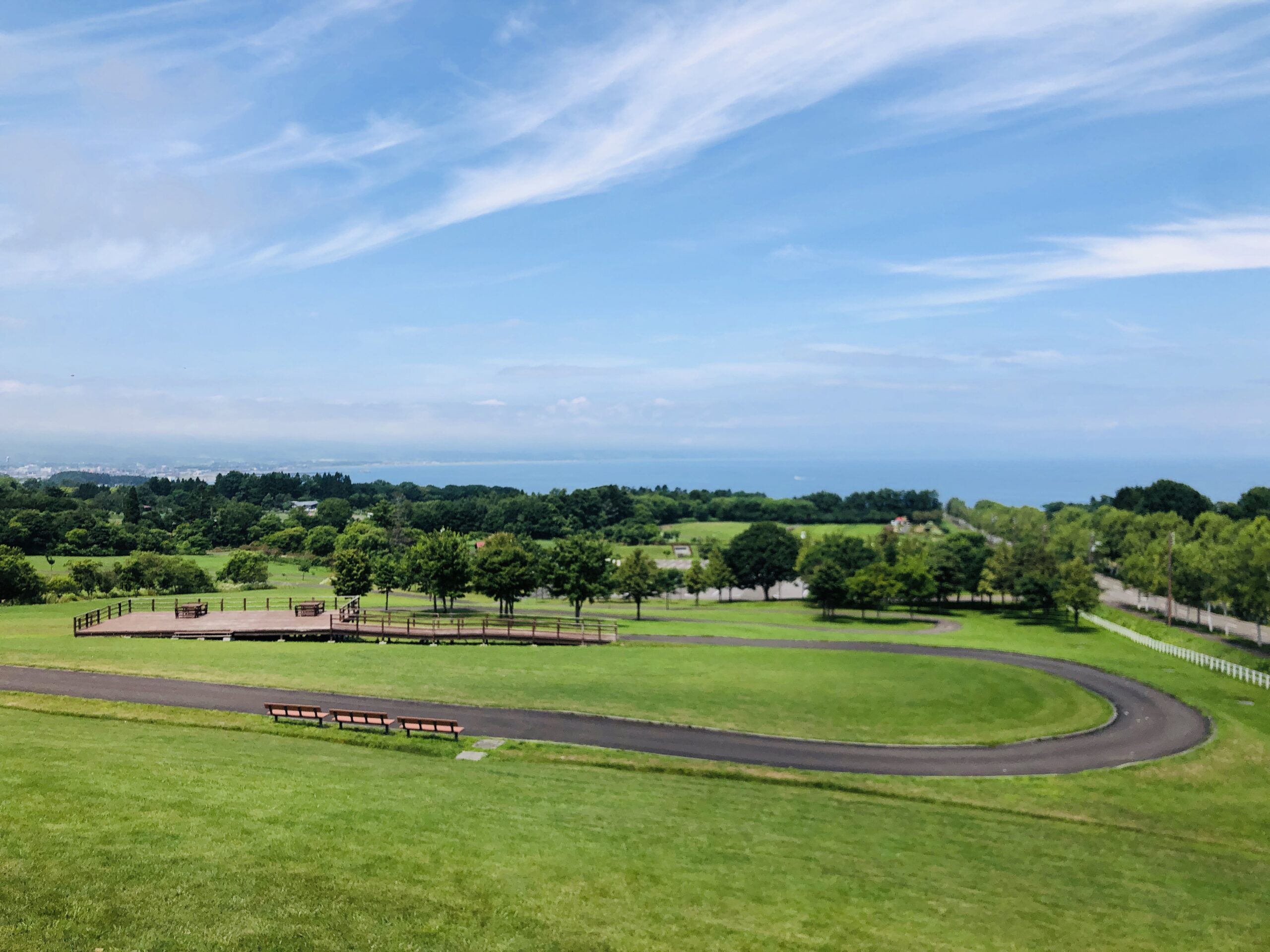 After enjoying the view of the eruption bay, we went to "Oka no Eki" to look for souvenirs.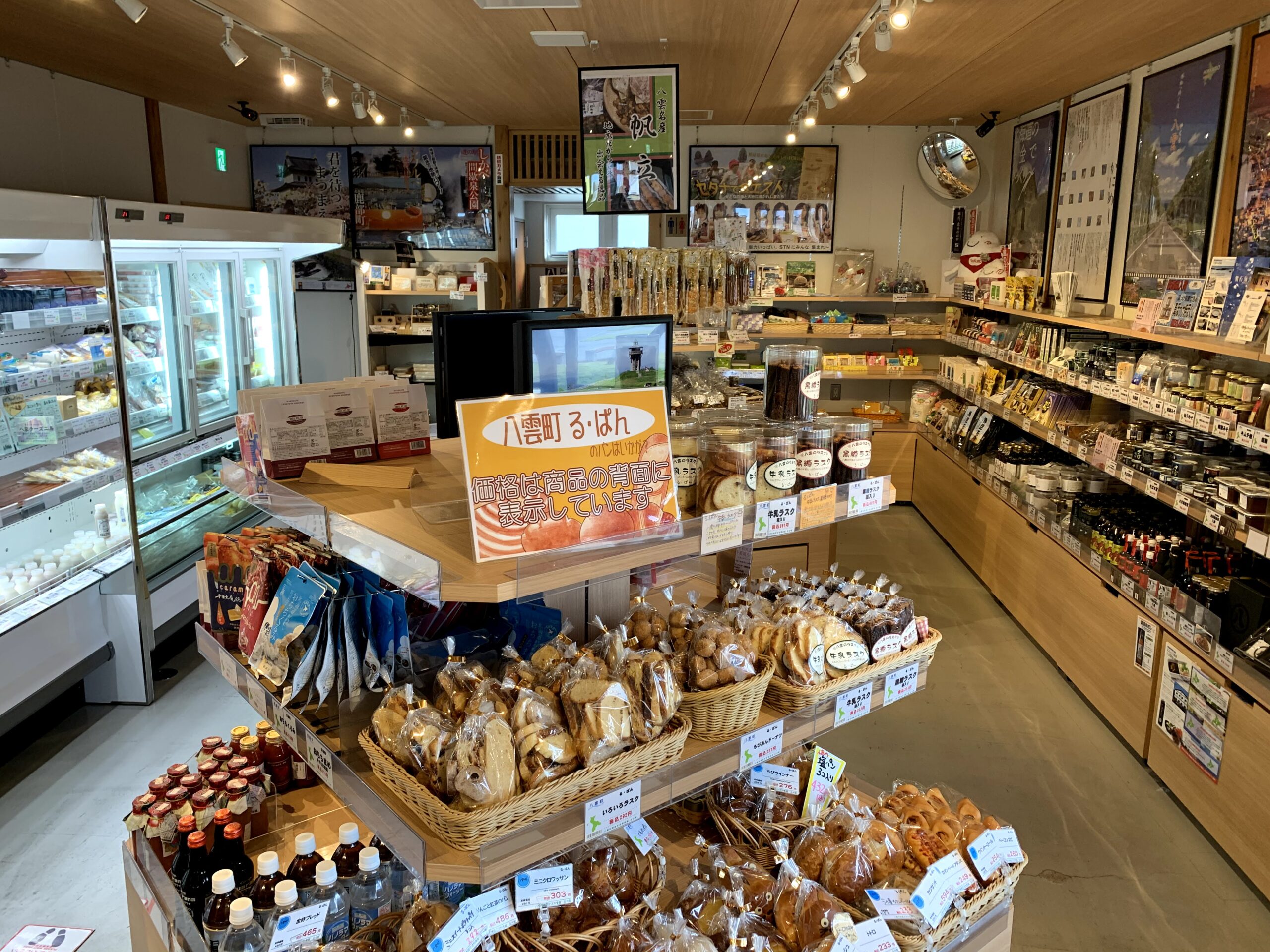 "Oka no Eki" has a wide range of items from Southern Hokkaido, mainly in Yakumo Town. They also have freshly harvested mochi rice.
There is a "Motoyama Farm Cafe ELFIN" right across from "Oka no Eki"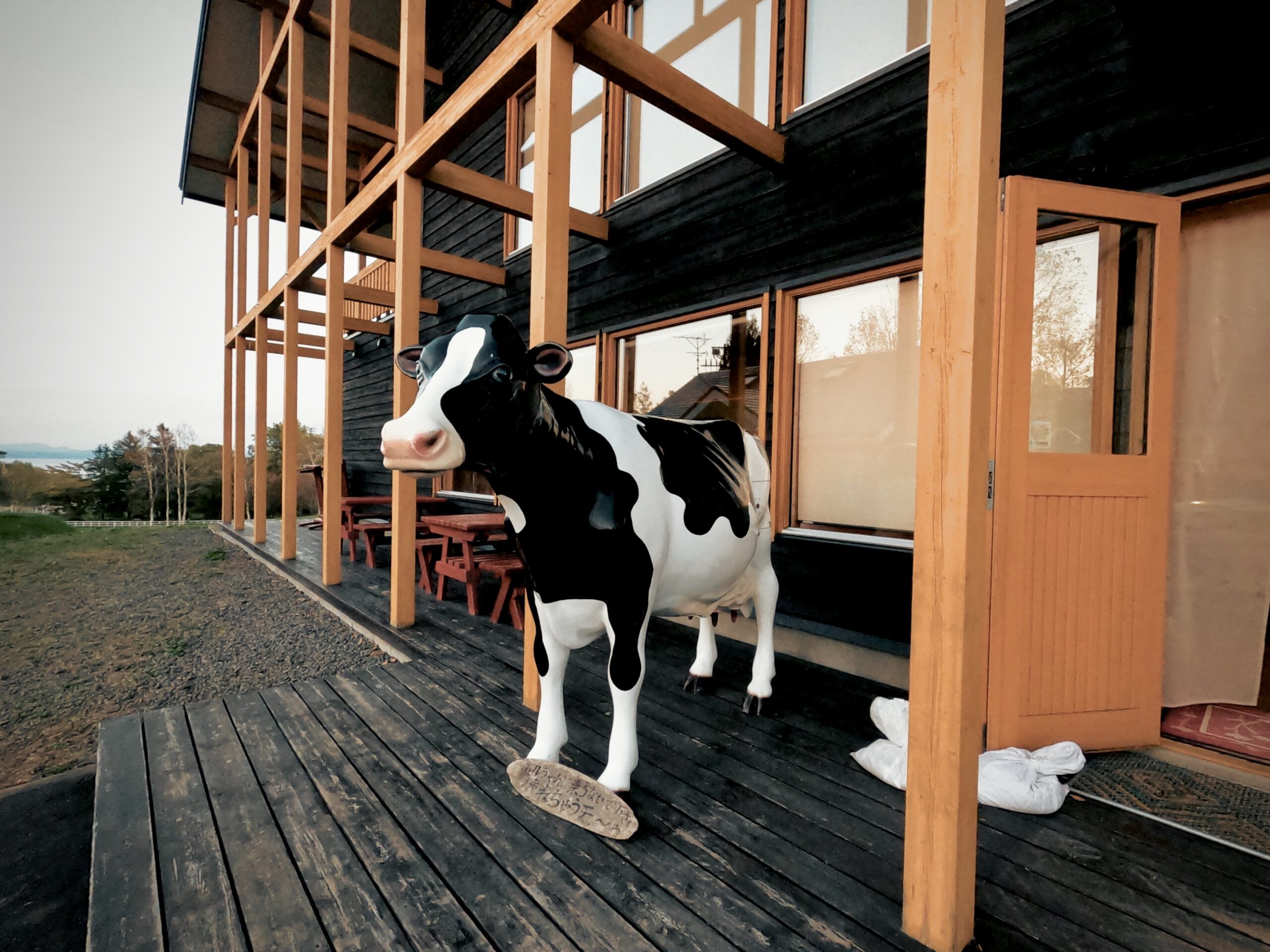 As the cafe is directly managed by a dairy farmer, they use fresh milk for ice creams and puddings. They have homemade gelato as well.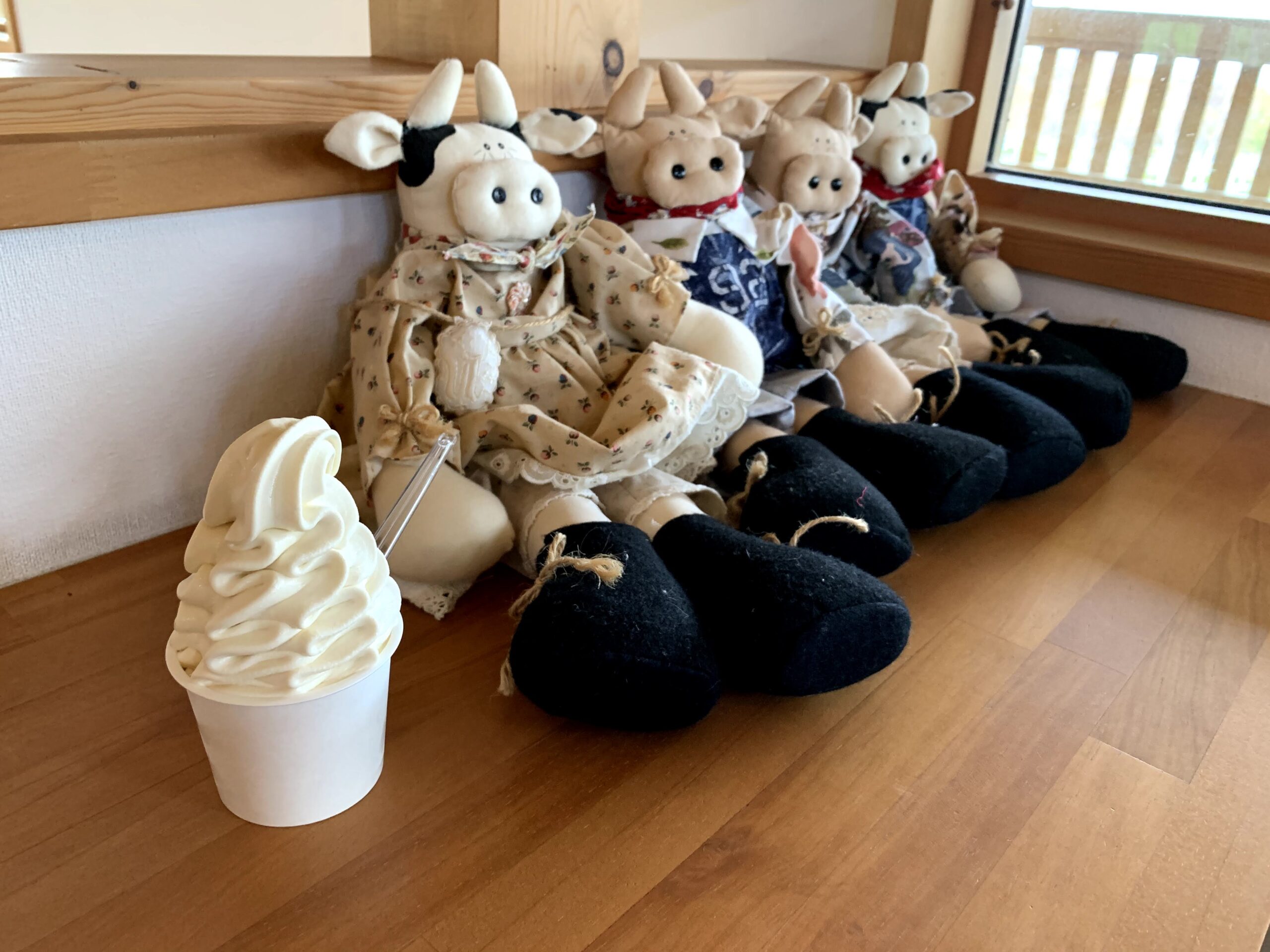 The scenery from the cafe is also beautiful. You can enjoy delicious soft serve ice cream and beautiful views from the Cafe.

Conc
lusion
That was all of the 「Autumn color leaves tour」 customized for a guest. We made this tour mainly for photography since the guest loves taking pictures of nature.
She also joined an event at night in our guest house "SENTŌ", enjoyed talking with local people.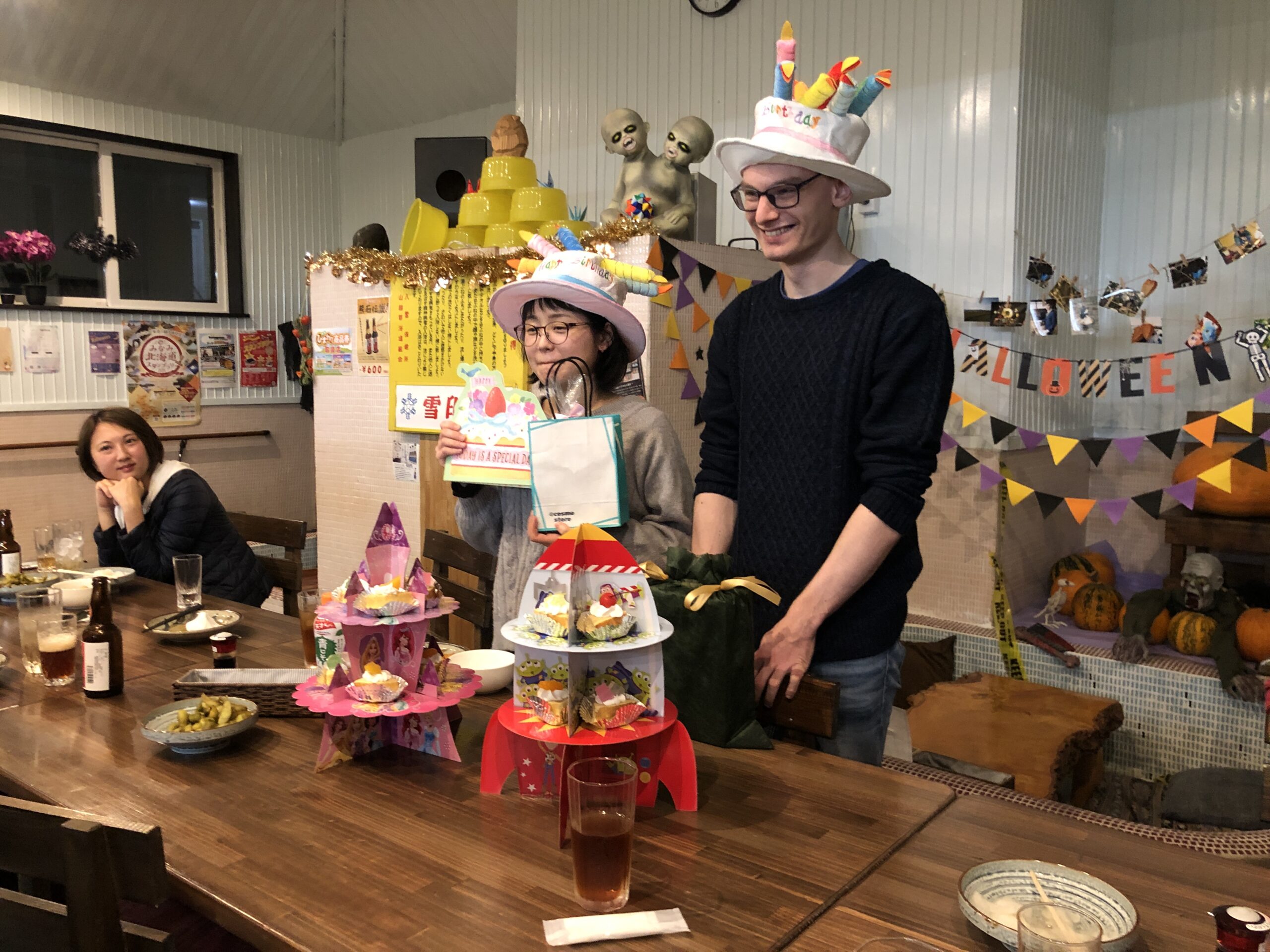 We will make your own tour at Yakumo Village.
You can also choose tours with farming or fishing experience.